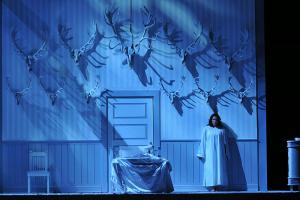 Saturday, Feb 14, 9:30 am
Approximate HD runtime 3:39
Peter Tchaikovsky
Iolanta
and
Bela Bartók
Bluebeard's Castle
On the heels of her triumphant Met performances in Eugene Onegin, soprano Anna Netrebko takes on another Tchaikovsky heroine in the first opera of this intriguing double bill, consisting of an enchanting fairy tale (Iolanta) followed by an erotic psychological thriller (Duke Bluebeard's Castle). Netrebko stars as the beautiful blind girl who experiences love for the first time in Iolanta, while Nadja Michael is the unwitting victim of the diabolical Bluebeard, played by Mikhail Petrenko. Both operas are directed by Mariusz Trelinski, who was inspired by classic noir films of the 1940s. Iolanta also stars Piotr Beczala, and Valery Gergiev conducts both operas.
                    .
 
The wonderful Stassya Pacheco returns for a pre-opera lecture prior to every Saturday live transmission, 30 minutes before the start time.  Also, Saturday operas offer the option of pre-ordering your lunch from The Lunch Box.  Pre-order lunches are made up during the opera and ready for you to enjoy during the intermission. We will also have recorded encore screenings of all performances.
 
Tickets: $23 adults; $19 seniors; $16 students with $2 off for Lincoln Theatre Members. Discounted Season Passes available!
 
Tickets go on sale to MET members on August 15th and to the general public August 22.