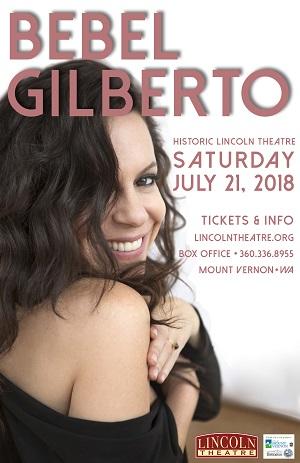 Saturday, July 21, 2018 - 7:30pm
Advance Reserved Seating Tickets: $39 1st Section; $35 2nd Section; $29 3rd Section; $24 4th Section + applicable fees. Lincoln Theatre members received $2 off!
Bebel Gilberto returns to the Lincoln with a new album recorded on her 2015 tour. Ms. Gilberto has recently started performing intimate versions of her songs live and has been delighted by the audience response. Perhaps more remarkable has been her own experience with her new album Bebel Gilberto Live at the Belly Up : "I feel completely naked listening to such untouched live tracks," says the singer. "Recording some of my favorite songs wrapped only with acoustic guitar has shown me how unique these moments can be." As for covering of the  Radiohead song Creep, Bebel has always had a broad taste for pop music, from Prince to David Bowie to Bjork, but recording and performing this song has been a particularly profound experience. "It's a very truthful version for me, and it only came after many late nights of singing the song alone."
Bebel Gilberto Live at the Belly Up captures a very special, intimate performance featuring the sultry Brazilian singer and and her long-time guitarist Masa Shimizu on guitar, performing some of her fans' favorite songs rearranged for this special show. The recording also features Bebel's own interpretation of Preciso Dizer que Te Amo, a song she originally wrote and recorded with fellow Brazilian singer Cazuza, a close friend of hers until his death from AIDS related causes in 1990. The song first appeared as a duet between the two artists on Red Hot & Rio in 1996.
Hailing from a rich musical lineage, Bebel is the is the daughter of João Gilberto and singer Miúcha, and grew up surrounded by her extended musically family, including her uncle Chico Buarque and family friends like Milton Nascimento, Tom Jobim, Caetano Veloso, and João Donato.
Although she has been making music all her life, Bebel Gilberto had her first major breakthrough as a solo artist with her highly acclaimed release Tanto Tempo in 2000, introducing her now-trademark blend of electronic bossa nova and positioning her as one of the top-selling Brazilian artists in the U.S. She has has released five albums in the last 16 years, all Grammy-nominated, and all of them reflecting a life growing up with one foot in Brazil and the other New York City, infusing a modern, cosmopolitan edge to her music. She continues to call New York City home to this day.