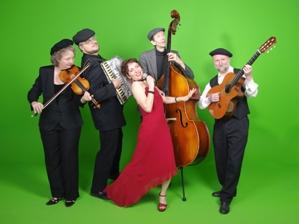 Friday, January 27, 2012 - 8:00pm
Ticket Prices: Tickets $18, $15, $13, $9
French cafe music--Edith Piaf to Pink Martini. Evoking France's cobblestone streets for modern ears!
Rouge specializes in French popular music from nostalgic chansons of Edith Piaf and bal musettes to contemporary chanteurs and originals!
Vocalist Janet Rayor, 
also a credited mime (Seattle Opera's "Pagliacci"), has recorded for theatre and film. She 
started singing this music with accordion in 1995, and by 1998, had gathered a team of adept, internationally touring musicians and composers to form Rouge. This virtuosic, passionate ensemble includes European recording-artist violinist Ruthie Dornfeld, Oscar-Peterson award-winning jazz pianist/accordionist Steve Rice, recording giant 
(Kingston Trio, Ernestine Anderson, Dan Hicks) 
bass-player Cary Black and Seattle Symphony pick and ethnic guitarist Dave Bartley. 
Vaudeville favorites
The Jezebel Rebels
are featured performers.
Note: Tonight's performance contains adult content. Recommend for mature audiences only.