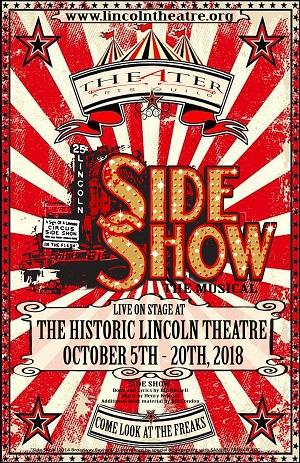 Friday, October 5, 2018 - 7:30pm
Saturday, October 6, 2018 - 7:30pm
Thursday, October 11, 2018 - 7:30pm
Friday, October 12, 2018 - 7:30pm
Saturday, October 13, 2018 - 7:30pm
Sunday, October 14, 2018 - 2:00pm
Thursday, October 18, 2018 - 7:30pm
Friday, October 19, 2018 - 7:30pm
Saturday, October 20, 2018 - 7:30pm
Reserved Seating Tickets $26 1st Tier; $20 2nd Tier; $12 3rd Tier.
Theater Arts Guild presents Side Show.
Theater Arts Guild presents the Broadway Musical Side Show for a three week run beginning October 5th. Based on the true story of Siamese twins Violet and Daisy Hilton who became stars during the Depression era, Side Show is an inspiring story of two women joined at the hip whose extraordinary bondage brings them fame but denies them love. Surrounded by the other 'freaks' of the side show, we follow their progression from England to America, around the vaudeville circuit and finally to Hollywood on the eve of their appearance in the 1932 movie Freaks. TAG has assembled one of the most talented casts ever for this must-see show! Come be a part of the magic and step back in time to when the Lincoln actually was a vaudeville house. This is a love story, tragedy, and documentary all in one, something for everyone! 
Get your Advance Reserved Seating Tickets TODAY!