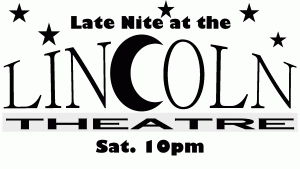 $8 General; $6 Members; $4 12 & under (when applicable)
For all you nighthawks the Historic Lincoln Theatre is screening a series of Late Nite films with a focus on the cult movies of our past. Many of these films have acquired a highly devoted but specific group of (often obsessive) fans, some have gone on to transcend their original cult status and have become recognized as classics; others are of the "so bad it's good" variety and are destined to remain in obscurity.
 
Coming up next, its the film adaptation of Hunter S. Thompson's American Classic, Fear and Loathing in Las Vegas.  Sit back and enjoy this mind-bending adventure through chaos, drugs and the American West on Saturday June 19th at 10:00pm.  All the info is right here.
 
Please join us as we pay tribute to some of our favorite quilty pleasures.
 
Screenings will be held once a month on Saturday nights at 10:00pm.
 
Our Art Bar will be open prior to the film.