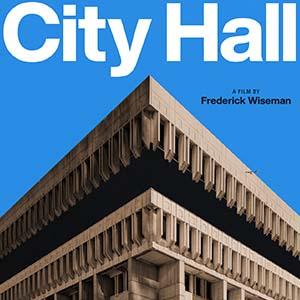 Friday, Feb 12 (All day)

to

Wednesday, Mar 17 (All day)
QUARANTINE CINEMA OFFERING
AVAILABLE STARTING FEBRUARY 12

City government touches almost every aspect of our lives. Most of us are unaware of or take for granted these necessary services such as police, fire, sanitation, veterans affairs, elder support, parks, licensing of various professional activities, recordkeeping of birth, marriage and death as well as hundreds of other activities that support Boston residents and visitors. CITY HALL, by Frederick Wiseman, shows the efforts by Boston city government to provide these services. The film also illustrates the variety of ways the city administration enters into civil discourse with the citizens of Boston. Mayor Martin J. Walsh and his administration are presented addressing a number of their policy priorities which include racial justice, affordable housing, climate action, and homelessness. CITY HALL shows a city government successfully offering a wide variety of services to a diverse population. 
As a bonus to virtual cinema only: After the film, watch a conversation between Frederick Wiseman and Boston Mayor Martin J. Walsh!
Director: Frederick Wiseman
100% Ceritfied Fresh on Rotten Tomatoes -
"What Frederick Wiseman has been doing for all these years and in all these films is trying to make art of decency and process. In the good ones, he's succeeded. "City Hall" is one of the very good ones." - Mark Feeney, Boston Globe
"While the phrase "required viewing" gets thrown around a lot, I cannot think of another film that plainly and comprehensively lays bare the both the complex apparatus at work, and the people dedicated to serving its populace." - Josh Kupecki, Austin Cronicle
USA | English | 2020 | Documentary | 275 minutes | NR 
Virtual Tickets: $12.00. 50% of the proceeds support the Lincoln Theatre!
Renting a virtual film through the Lincoln is a great opportunity for patrons to show their support for us during quarantine. Many of the virtural films are available to send as gifts.
HOW TO WATCH: TELEVISION (via APPLE TV, ROKU, CHROMECAST, or downloaded app on your smart TV) | MOBILE DEVICE (iPhone, iPad, Android) | COMPUTER (by clicking on the streaming link).
For more information on how the rental works:
Click the BUY TICKETS button above to purchase entry to our digital screening room.
Create an account – it's very easy! – and complete your purchase. 
For general help go to our Streaming Information Page HERE.
For any questions regarding streaming, device, connection, or payment issues, reach out directly streaming platform HERE.
For other questions, please feel free to reach out to us at admin@lincolntheatre.org