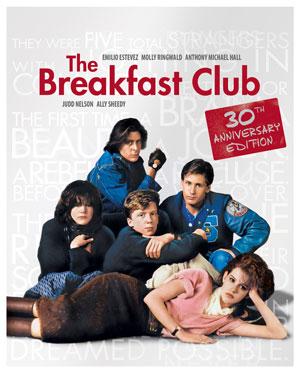 Saturday, Apr 11, 7:30 pm
Join the Brat Pack for the 30th Anniversary celebration of The Breakfast Club, ranked number 1 by Entertainment Weekly's list of the 50 Best High School Movies. For the first time on the big screen in wide release since the 1980's, gather your pack and head to the cinema for a true fan tribute honoring John Hughes' most memorable and recognizable work.
 
Our Art Bar will be open (as the Detention Room) and we'll raffle off a Detention Survival basket each night.
 
Come as your favorite Jock, Criminal, Basket Case, Brain or Princess and join the fun. 
 
The Breakfast Club defined an entire generation of pop culture and included such talent as Molly Ringwald "the prom queen," Anthony Michael Hall "the geek," Emilio Estevez "the jock," Judd Nelson "the trouble maker," and Ally Sheedy "the outcast." This 30th Anniversary release includes the completely re-mastered feature that has never been seen before on the big screen plus a newly remixed bonus content featurette titled The Breakfast Club; A Retrospective that takes a look back at the film that defined a genre. Featuring personal insights from cast members Judd Nelson, Ally Sheedy, Anthony Michael Hall and John Kapelos as well as contributions from filmmakers Diablo Cody, Amy Heckerling and Michael Lehman, this featurette is a must see for all Jocks, Criminals, Basket Cases, Brains and Princesses. 
 
Five high school students from different walks of life endure a Saturday detention under a power-hungry principal (Paul Gleason). The disparate group includes rebel John (Judd Nelson), Princess Claire (Molly Ringwald), the outcast Allison (Ally Sheedy), brainy Brian (Anthony Michael Hall) and Andrew (Emilio Estevez), the jock. Each has a chance to tell his or her story, making the others see them a little differently -- and when the day ends, they question whether school will ever be the same.
  
Advance tickets: $12.50 general, $10.50 Lincoln Theatre Members
: