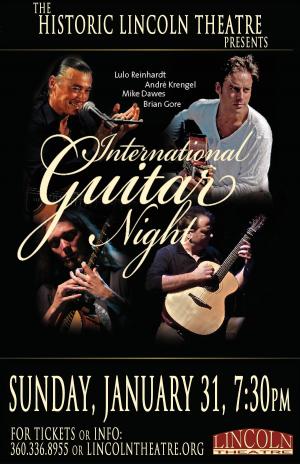 Sunday, January 31, 2016 - 7:30pm
Reserved seating tickets: $34, $31, $28 & $25 with $2 off for Lincoln Theatre Members.
For the January/February 2016 North American tour, IGN founder Brian Gore will be joined by three of Europe's finest acoustic guitarists: Gypsy Jazz legend Lulo Reinhardt, contemporary fingerstyle innovator Mike Dawes and multi-genre showman Andre Krengel. Lulo has expanded on the legacy of his grand-uncle Django with Latin-flavored rhythms and melodies. Mike's lightning-speed and deft tapping and percussion were among the highlights of the 2014 IGN tour. Andre is a master of many styles from flamenco to swing to modern ballads and he is a frequent collaborator with Lulo in Germany. We are looking forward to a particularly dynamic evening of contemporary guitar music.
LULO REINHARDT


Django Reinhardt left behind an indelible musical legacy, introducing and defining a passionate style of Gypsy Jazz guitar that was astonishing in the 1930's and is still revered and emulated today. Born to a Gypsy family in Belgium, Django's playing inspired his extended family in Germany and France, and successive generations of Reinhardts have reinforced his powerful musical vision and added their own ideas. LULO REINHARDT, Django's grand nephew, is a third generation master from Germany. He has retained the incredible Reinhardt soul, speed and dexterity and updated the repertoire.
Lulo was first taught by his father at the age of five. At twelve, he played in the Mike Reinhardt Sextett and later co-founded the group, "Django Reinhardt and the Heartbreakers." In 1991, he founded "I Gitanos" with his father Bawo and cousin Dege, touring throughout Europe and first establishing his national reputation.
Lulo is a spontaneous and spirited musician. His curiosity took him to southern Spain in search of flamenco roots, and to South America, exploring various musical styles of Latin Jazz. By 2002, he was ready to take his place as a bandleader, founding the Lulo Reinhardt Project. They recorded the highly-acclaimed Project No. 1 in 2002, and Project No. 2 in 2005, reflecting his passion for Latin music.
In 2007, Saga Instruments of San Francisco CA made the first Lulo Reinhardt Model Gitane 310, modeled on the classic Gypsy guitars. This inspired Lulo to compose more Swing material, which he combined with Latin music, and in 2007 changed the name of his group to the Lulo Reinhardt Latin Swing Project. They recorded their first CD in 2008. In the beginning, he played in Europe with an all-German band but later spent considerable time in Australia, forming a new band of German and Australian musicians. They recorded Live In Melbourne in 2008 and Katoomba Birds in 2010.
The Lulo Reinhardt Latin Swing Project has an extensive international touring history. In additional to annual Australian tours beginning in 2008, they have played in the United States, China, France, Switzerland, Belgium, England, the Czech Republic, Scotland and Germany. Lulo has also performed as a soloist with the International Guitar Night troupe in 2009 and 2011, going to Canada, America and the UK. The Latin Swing Project headlined the inaugural U.S. tour of In The Footsteps Of Django in 2012.
MIKE DAWES
Since Mike Dawes released his debut single with Candyrat records in June 2012, his international profile has exploded. The young performers' virtuoso style, littered with subtle nuances and micro-techniques has earned the 24 year old Brit massive international critical acclaim.
The 'What Just Happened?' world tour, in support of his debut album, has taken his energetic, vibrant and questionable English humour to Asia, Australasia, Europe, the Americas and beyond, and has landed the young player with an almost limitless stream of exciting sessions and collaborations.
Artists as globally diverse as Gotye and Newton Faulkner have worked with Mike in the studio, adding his guitar parts to their major album portfolios, whilst Justin Hayward of The Moody Blues acquired a right hand axe man in Mike, as the pair are currently touring together in support of their respective new records.
Mike's stage show has to be seen to be described, a youthful energy and charisma that blows the lid off the traditional guitar concert. His videos gain hundreds of thousands, if not millions of views in as little as one week online. Mike is extremely excited to bring his solo, and collaborative show to North America as part of the acclaimed International Guitar Night.
'Astounding Virtuosity' - Gotye
'Completely Spellbinding' - Evening Post
'Incredible' - International Guitar Foundation (IGF)
'Beautiful and sensitively played arrangements and compositions' - Acoustic Magazine
'Amazing Guitarist' - MSN.com (Headline)
'Mike tears it right up, his hand looks like a creepy spider!' - Andy Mckee
'This guy makes me want to put my guitar in the recycling' - Beardyman
'I was in a trance, I didn't notice I was spilling beer on my leg' - Martin Harley
ANDRE KRENGEL
Andre Krengel is one of Germany's most sought-after acoustic guitarists. His style encompasses a variety of genres from flamenco to Gypsy Swing to his own original compositions. He has toured and recorded as a solo artist, with his group Acoustic Embassy, and with his fellow countryman Lulo Reinhardt. Andre will be making his North American debut in 2016 with International Guitar Night.
BRIAN GORE 
San Francisco guitar poet Brian Gore is gaining a reputation as one of the most interesting and influential performers of "the next generation" in fingerstyle guitar. A musical romantic, his compositions draw inspiration from myth and modern literature. Hailed as having "...one of the most unique new acoustic guitar styles on the scene today (News and Review)," his lyrical, understated compositions integrate classical and percussive techniques that display what the Los Angeles Times calls "a characterful bounce and spaciousness all his own."
Gore's style of playing offers strikingly beautiful tone and dynamics-- qualities that are often hard to find in steel string players. His melodic, evocative songs rely heavily on the use of open tunings, extending the "stream of consciousness" style of guitar composing he grew up with in Northern California. "Music started out as a kind of therapy for me," says Gore. "Consequently, I am a very emotional player. Now, my style of playing has also become a well honed craft. I am very grateful I can share this with people."
Brian GoreHis buoyant personality and odd sense of humor help add lightness to his shows. "By the time I'm done with a performance," explains Gore, "people really know the meaning of the term 'extroverted introvert'." While Gore integrates some of the flashier percussive techniques into his pieces, the poetic quality of his music is preserved. "Because my music is simple and somewhat rootsy, it's easy to relate to, which is something I'm thankful for. Also, it helps keep me grounded."
Gore's recent CD + postcard release is called "Santa Cruz in Song and Image."  He is currently expanding upon his work with illustrator Bill Russell on an online series of videos and original songs plus multimedia show called "Wine Country: A Pairing of Music and Art."  He has two additional solo releases, including "Legacy" and "Path of Least Resistance."
Brian founded The International Guitar Night in 1995 as a forum for the world's finest guitarists/composers to play their latest original songs and share musical ideas with their peers in public concert. This has evolved into critically acclaimed annual tours in the US (starting in 2000), Canada (starting in 2006) and the UK (starting in 2007), a CD on Favored Nations Records released in 2004, a guitar instruction book published in 2005, and IGN releases on Warner Music Canada (the 6th annual CD will be released in 2011).
"Brian Gore's strong, well developed melodies and intriguing chord sequences set him apart from the myriad of steel-string fingerstylists who compose in open tunings. His finely crafted poetic "songs without words" take the listener on a spellbinding emotional ride."

--Ron Forbes Roberts, Acoustic Guitar Magazine


"An artist of the highest caliber."

 --Ray Toumey, the Boulder Chautauqua