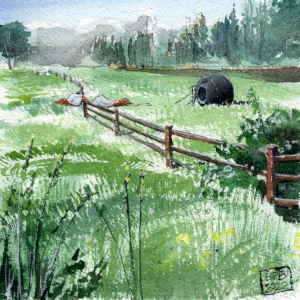 Visit our Art Bar for refreshments and local art!
Ben Bittner is our featured artist for September.
Ben Bittner is an artist who lives on Whidbey Island. He studied illustration at Western Washington University. Recent work has focused on ink and watercolor landscape painting.
Ben is an avid backpacker, and his paintings typically begin while taking a break during a hike, with sketches and photographs which inform and inspire the paintings. The Washington State wilderness has a surprising amount of crashed spaceships, sea monsters, and robots.