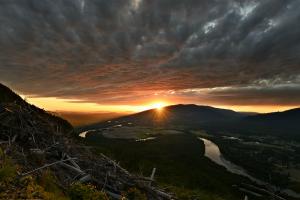 Meet Lisa during downtown Mount Vernon's First Thursday Art Walk on August 4th from 5:00 - 8:00pm. 
The day after receiving a camera for my birthday in 2009 I decided to begin a photo a day for a year blog. Calling it, One Day at a Time in Photos,
I intentionally and without fail, went out and took photos, coming home each day to carefully review and choose one which I would post for the day. I learned a lot during that first year. Things such as; never leave immediately when the sun sets, when watching a sunset...turn around and look at how it's lighting the sky behind you, notice and obey "No Trespassing" signs (for the most part), and most importantly, NEVER ever leave the house without your camera. As I completed my final blog post #365 I found myself realizing that this wasn't the end but only the beginning of something that had become a part of me. While I no longer adhere to a hard and fast rule about taking and posting a photo everyday, I do keep my camera with me at all times. In the end I realized the true gift was really about discovering a way to express myself through my photography. Where I traveled, my perspective on the world, the colors I saw, and the places I had grown up around but had not always noticed or fully appreciated. Now, 7 years later I am still taking pictures. Random, meaningful, and occasionally intentional pictures, which all reflect who I am and where I live. A visual journal that immediately takes me back in time to a specific moment when an old barn was being dismantled square headed nail by square headed nail, a baby crawling across a road as spectators awaited wild horses in the street, or a solitary sunset breaking through the clouds with my faithful hiking buddy, Tillman, a flat-coated retriever, who is good about reminding me when I have spent maybe more time than necessary taking pictures of a waterfall along the trail to the top. 
A life long resident of Skagit County, Lisa is also an educator who homeschooled her two sons while working in libraries and local schools part-time. In addition, she has done free-lance photography for Bellingham Alive! and North End Metro magazines where she's met amazingly creative and fascinating people. In her free time, hiking and photography have become synonymous as she ventures throughout the state to experience and capture the beauty of Washington while always keeping an eye out for a possible Sasquatch sighting.