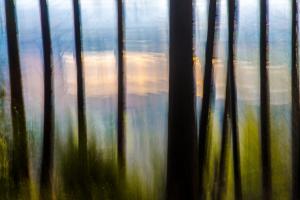 A middle school art teacher by day, Jeff Whidden enjoys capturing fleeting moments in nature with his camera.  His passion for surreal, abstract and impressionist art influence his approach to photography and are expressed in a series of images taken on the slopes of Little Mountain, right here in Mount Vernon. With the intent to encourage daydreaming, he is calling the series "Imagining Little Mountain." Except for some manipulation of color, these pictures are pretty much straight out of the camera.
 
After a six year stint as an environmental scientist, which led him from Seattle to Alaska, Jeff taught science and a little bit of art for ten years before becoming a full time art teacher.  Last year, for a special school wide project, he shot individual black and white portraits of all eight hundred students at his school. The final display completely filled both sides of a long hallway.  
 
Maybe even more rewarding than teaching, photography or woodworking, Jeff gets immense satisfaction introducing others to the outdoors. When not at work, Jeff can often be found exploring mountain areas with his wife Susan and their friends.