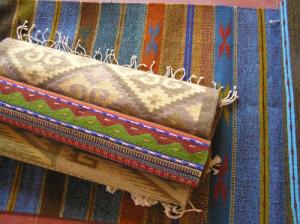 June 2011
Distant Neighbors
Many Skagitonians have deep ties to other countries where their families originated or live, but here we are close neighbors. Mexico is not only the homeland to many of us but it is our geographical neighbor, in many ways both close and distant. For some of us to go there is a pleasant short vacation trip, for some it may be an ordeal born of necessity. For some of us Mexico is not home, but truly our distant neighborhood. We go there often to work, learn, enjoy and visit friends.
Photographer John Sedgwick:
I am often asked what I photograph.
Our inner and outer worlds abound with artistic opportunity. My inspiration is drawn from my mood, where I am and what nature's glorious light presents to me. My best images find me, they were there all along inviting me in to explore and create art from the dancing light before me.
I am drawn to detail often hidden in the larger scene.I love rich vibrant color, moody skies, sacred trees, lush flowers and the marvelous display of abstract pattern all around me. This may be the exquisite design of an intimate landscape, the sensuality of a supple rose or an edgy abstract etched in rusty steel.
Thank you for your support for the arts.
Ginny Darvill:
Vida Nueva is a group of Zapotec women from Teotitlán del Valle, an indigenous Mexican community in Oaxaca with centuries of weaving history. This cooperative of widows, single mothers and unmarried women supports each other in daily struggles and shares artistic and practical ideas and techniques. By working together and selling directly to consumers, they are gaining respect and fair prices. Some of their proceeds help support women through workshops on domestic violence, traditional medicine, health care, and weaving techniques. Other projects include safe, environmentally sound stoves, toys for poor children, food for poor and ill women, reforestation and water conservation. They work to preserve traditional techniques, designs and natural dyes. Every step in the production of rugs, or tapetes, is done by hand with traditional methods. Each tapete is unique.
Ginny Darvill visits the cooperative and buys directly from the artists at their full price. She sells the rugs for the same price plus only the cost of shipping for the purpose of helping support the women and increasing their market. Besides her connection to the women of Vida Nueva, she also volunteers at CORAL, a program for hearing impaired children in Oaxaca City and will return to both places this fall. Because of the large, vibrant Mexican community in Skagit County and the ties many other county residents have to Mexico, she considers Oaxaca both a close and distant neighbor.