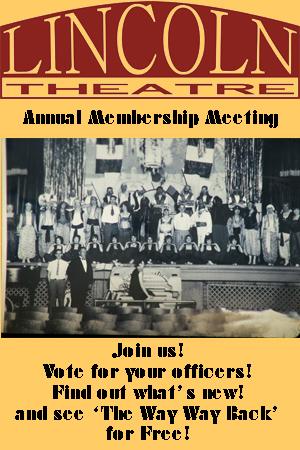 Lincoln Theatre Members in good standing (meaning you're paid up!) are invited to the Membership Meeting on Thursday, September 5, 2013 at 6:30 PM.  At this meeting you will get a brief view of the last year at the Lincoln, our hopes for the future, and a chance to vote on Officers of the Lincoln Theatre Center Foundation for the current year.  To top it off, you'll get to attend The Way Way Back – a terrific summer film rated PG 13 that we'll be showing with our new digital projection system – for free!
 
2013 was an amazing year at the Lincoln and we're looking for 2014 to be wonderful, as well.  We'd like to share it with you, so please try to attend.
 
And while you have your calendar out, note that the Lincoln Theatre's official Celebration of the Digital Projection System will be held on Saturday, September 14 at 7:30 PM with a free showing of Singin' in the Rain.  While we don't expect be "sold out" (it is a free show that the entire community is invited to, though) we recommend getting here a bit early.  And if you donated to the campaign for the Lincoln's Digital Future, you're invited to sit in the reserved seats up front!  We do hope to see you there!