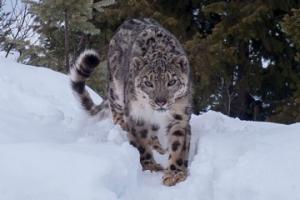 September 2013
 
A reception with the artist will be held on Saturday, September 7th from 6:00 - 7:30pm.
 
Hap Bailey-Hudec has enjoyed a lifetime behind the lens.  As a youngster she has memories of working alongside her father in the darkroom.  Truman Bailey was a free lance photographer with commissions from National Geographic, LIFE, Natural History Magazine and others, allowing him the opportunity to explore the globe in search of textiles and artifacts.  Hap's lust for travel and the unusual comes naturally, and more recently a passion for wildlife photography.
 
Her travels have taken her to northeastern China for the powerful Siberian tiger; central China for the whimsical pandas;  the Masai Mara in eastern Africa, her favorite location in Africa for the variety of animals.  She has been to the Hudson Bay in different seasons to photograph polar bears.  Late winter when the sows are emerging from their dens with their cubs is especially exhilarating.  Traveling north of the arctic circle on a research vessel she has seen first hand the effect of global warming.  An identical voyage from one taken three years prior, the ship was now free to travel through the ice fields that had previously blocked the passage, and this only 500 miles from the North Pole.
 
Hap and her loyal companion, Bella (a ninety pound Malamute), currently live in Anacortes, Washington, the heart and soul of the San Juan Islands.