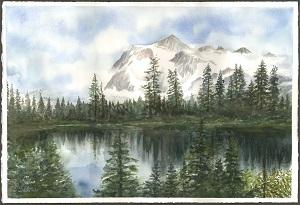 Don Smith Watercolor painter
 
Reception with the Artist on Friday, January 18th 6:00 - 7:30 
 
 I love to make art!
 
 I had the opportunity to learn some watercolor technique from Val Welman and George Tsutakawa, my professors in Western and Japanese Watercolor painting at the University of Washington  School of Art back in the 1970s.
 
I wish that I had studied techniques in that medium more, as I'm largely self-taught and often come up short of what I'm trying to achieve. 
 
 Nevertheless watercolor is a wonderful, spontaneous medium, full of "happy accidents" and surprises, and responding to many of the same elements and natural forces (gravity, diffusion, surface tension, evaporation, reflection of light,) that are at work on the subjects I attempt to depict. So I love to paint with watercolor.
 
   It's the artist's job to show others what they may not otherwise notice about the world around them.
 
 Having lived in the Magic Skagit Valley since 1974, I can attest to what a rich and wonderful place this is for an artist to live and work!
 
 - Donald A. Smith (DAS)