The Lincoln Theatre is supported by more than 700 members from Skagit, Whatcom and Snohomish Counties; throughout Washington and British Columbia; and around the world. By becoming a member, your support keeps the curtain rising at the historic Lincoln Theatre.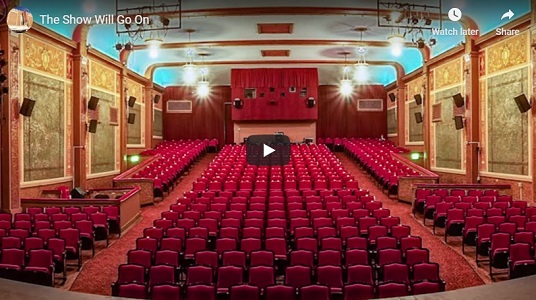 There is strength in members: Support local history and keep the arts alive in Skagit County by becoming a member of the historic Lincoln Theatre today!

Become a member or renew your membership one of 3 ways:
Online - Click here
Call or visit the Lincoln Theatre Box Office at 360-336-8955 at 712 S.1st Street, Mount Vernon, Mon - Fri 9 am - 5 pm
Send in the Membership Form to Lincoln Theatre, PO Box 2312, Mount Vernon WA 98273
As a member you will receive these benefits:
Member only pre-sales for advanced ticketed events
Discount of $2 off general admission to all regular films and Lincoln Theatre sponsored events
Discounts at select local businesses when using your membership card
Weekly updates and monthly program calendar by email (print calendar on request)
Discounts on Lincoln Theatre merchandise
Invitation to member only events
Memberships of $100 and above receive on screen acknowledgement and additional perks (depending on the level), such as, free regular film admissions, Members Mingle, gift memberships, preferred seats and opportunities to meet the performers
Membership Levels
Individual ($30 and above) Members receive:
Membership card for 1 household member
Supporter ($50 and above) Members receive:
Membership cards for up to 4 total household members
Patron ($100 and above) Members receive:
Supporter level membership benefits plus on screen recognition
Muse ($250 and above) Members receive:
Patron level benefits plus household Annual Film Pass good for one free admission to any regular film
Director ($500 and above) Members receive:
Muse level benefits plus an extra gift membership​
Producer ($1000 and above) 
Director level benefits plus one additional household Annual Film Pass
Mogul ($2,500 and above)
Producer level benefits plus purchase of 2 preferred seats during event presales
Benefactor ($5,000 and above)
Mogul level benefits plus special invitations for a personal meeting with performers
Business Discounts for Lincoln Theatre Members
As a Lincoln Theatre member you receive discounts at the following businesses when using your membership card. Ask the business for details on their discount.
Easton's Books - (20% off) 701 South 1st St, Mount Vernon
Northsound Brewery - (10% off) 17406 State Route 536, West Mount Vernon
Pacioni's Italian Restaurant - (10% off) 606 South 1st Street, Mount Vernon
Salazar's Nursery & Landscaping Supply - (10% off plants only),1121 West Division, Mount Vernon
Taste of India - (10% off) 420 W Gates St, Mount Vernon
Rockfish Grill - (10% off) 320 Commercia Ave, Anacortes
Thai House - (10% off) 616 S First St, Mount Vernon
Thank you to our participating merchants. We value your support.
Do you have a favorite business that's not on this list?  Let us know and we'll ask them to participate!