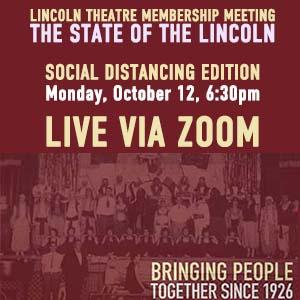 Monday, Oct 12,

6:30 pm

to

7:30 pm
We held our first Annual Membership Meeting VIRTUALLY VIA ZOOM Monday evening and except for a few minor technical issues we pulled it off! If you attended, THANK YOU! It is a requirement of our founding documents and without you it wouldn't be any fun.
As promised I'm sending a link to view the meeting recording (it's worth it just for the staff video) and including links to PDFs of our Annual Report and architectural drawing comparisons of our Original FOH Plans and the preliminary proposal from HKP Archetects for a better lobby flow when we reopen for live performances. It's interesting to note on our original drawings that we only had one stall in the "Ladies Room" and one stall and urinal in our "Smoking Room" for 700 seats when we first opened! The renovation will also return the look of our original lobby design. Concessions were added in the 1950s where the original manager's office stood which added to the congestion in the lobby and lines at the restrooms. We're planning to add additional women's stalls where the manager's office used to be, move concessions to the former storefront in the south annex, and utilize the ticket kiosk in the foyer to reduce congestion.
Congratulations to New Officers, Margot Knuth, Britta Eschete, and Carol Johnson all voted in for the Lincoln Theatre Center Foundation Board of Directors on Monday. They will be a great addition to our current board.
In our 2019/20 fiscal year, for the first time ever, the Lincoln went virtual and, while we still maintain our commitment to the arts, we understand the 2020-2021 calendar will be like no other in our 94-year history. Despite the challenges laid out before us we continually strive to give you the best possible programming, no matter what.
Trivia Winners look for your Lincoln merch to arrive soon!
Thank you again,
Roger