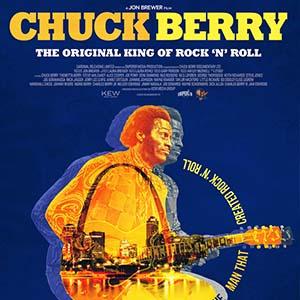 Friday, Sep 18 (All day)

to

Thursday, Oct 8 (All day)
QUARANTINE CINEMA OFFERING
AVAILABLE STARTING SEPTEMBER 18

CHUCK BERRY tells the story of the Granddaddy of Rock & Roll. In this highly anticipated feature-length documentary, the absolute instigator of Rock and Roll, Chuck Berry is truly revealed with exclusive access to his family, friends, famous fans and music icons he inspired.Chuck Berry was an undisputed and stunning combination of talent and charisma and despite his iconic status, and reverence for his talent by rock's heroes John Lennon, Bruce Springsteen, Keith Richards, Steve Van Zandt, Joe Perry, Alice Cooper (all featured in the film), Chuck was a family man who managed to cross the racial divide in 1950's America with the power of a well-crafted song and a fender guitar. CHUCK BERRY features the first interview with Themetta "Toddy" Suggs, the late guitarist's wife of 68 years.
"You could almost say that Chuck Berry invented the teenager." - Steven Van Zandt
"He was the most important guitarist in rock history." - George Thorogood
"Chuck Berry was Chuck Berry. The definition of Chuck Berry is Chuck Berry!"  - Gene Simmons
Director: Jon Brewer
USA | English | 2019 | Documentary | 103 minutes | NR 
$10.00 for a 48 hour rental period. 
HOW TO WATCH: TELEVISION (via the the downloaded APPLE TV or ANDROID app, or CHROMECAST) MOBILE DEVICE (iPhone, iPad, Android) | COMPUTER (by clicking on the link below).
For more information on how the rental works:
Click the button above, or follow THIS LINK to purchase entry to our digital screening room.
Create an account – it's very easy! – and complete your purchase. IMPORTANT: Input Lincoln Theatre's code, lincoln, to receive a $2 discount ($10 ticket) and the Lincoln will receive 50% of the ticket price.
Watch as much as you like for 48 hours!
For any questions regarding streaming, device, connection, or payment issues, you will need to reference these links and reach out directly Altavod HERE.
For non-streaming questions, please feel free to reach out to us at admin@lincolntheatre.org