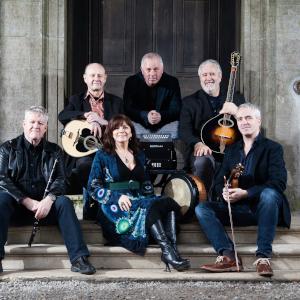 Tickets go on sale to Lincoln Theatre Members on Friday, December 10 at 10:00am. Tickets go on sale to the General Public on Friday, December 17.
As one of the world's most renowned and imaginative interpreters of Irish folk music, Dervish have devoted the last three decades to gently reinventing the traditional songs of their homeland.
Founding members Cathy Jordan (vocals, bones and bodhran), Shane Mitchell (accordion), Liam Kelly (flute, whistles), Michael Holmes (bouzouki), Brian McDonagh (mandola, mandolin, bouzouki), and Tom Morrow (fiddle, whistles) were childhood friends in County Sligo—the same creatively fertile region that spawned a group of legendary fiddle players who emigrated to the U.S. in the 1920s, then recorded the first known Irish-music albums of any genre. "We're very much like a family band, though we're not actually family," says Mitchell. "We grew up playing around pubs in Sligo, then went our separate ways but all kind of missed each other." In 1988, the musicians reunited when the opportunity to record an album arose, then made their debut with 1989's lavishly acclaimed The Boys of Sligo. Despite feverish response from all around the world, Dervish turned down record-deal offers and launched their own label, releasing their sophomore effort Harmony Hill in 1993 and immediately seeing the album climb the Irish charts.
Through the years, Dervish have toured the globe and shared stages with the likes of James Brown, Neil Young, and Sting, becoming the first Irish band ever to play Rock in Rio (the world's most massive music festival), and steadily making their name as one of the foremost purveyors of Irish folk music. "We've always seen ourselves as holding this music for the next generation," Mitchell points out. "It's like a painting that's always existed, and now we're just putting a new frame around it."
As they approach their 30th anniversary, Dervish again prove the enduring significance of even the most timeworn songs. And in a way not unlike the folk revival of the 1960s, much of their latest album The Great Irish Songbook celebrates a spirit of togetherness, with a conviction that's gracefully understated but powerfully felt. For Dervish, that sense of community and connection is both an ideal takeaway for the album and the driving force of its creation. "With this record we brought in people from genres sometimes totally unrelated to what we do, but still found a way to create some beautiful music together," says Mitchell. "I think that's an incredibly important thing to consider in life as well, especially now: everyone can find a way to collaborate, even if you're coming from what feels like completely different places."
Advance Reserved Seating Tickets: $39 1st Section; $34 2nd Section; $29 3rd Section; $24 4th Section + applicable fees. Lincoln Theatre Members recieve $2 off all ticket prices.