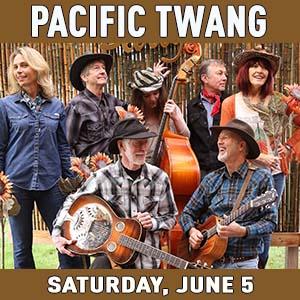 Pacific Twang features beautiful vocal harmonies and stellar musicianship. Its members hail from other highly popular local bands (The Walrus, The Atlantics, Fantasy, Free Harmony, Stirred Not Shaken, Stilly River Band) and the combined experience of this group makes for something really special.
Their song list includes catchy originals as well as tunes from The Chicks, Little Big Town, Miranda Lambert, Niko Case, Kasey Musgraves, Emmy Lou Harris, Midland, Eagles and many more.  Pacific Twang will also surprise you with swampy versions of fun classic rock tunes.  From sweet old-timey ballads to fiery boot stompers, you'll be highly entertained and dancing all night.
The stream goes live at 7:00pm. The concert starts at 7:30pm
The concerts will be streamed on our Youtube channel by donation. Proceeds will be split 50/50 between the performers and the Lincoln Theatre Center Foundation.
Support for the series comes from Richard Hartung, Margaret and Allen Bird, and Cindi and Steve Olszewski, Mr. Don Wick, the Rick Epting Foundation, Dimensional Communications, Logan Creek, Skagit Symphony, and JRivera & Associates. A big thank you to to Colby and Brett from Dimensional Communications for their technical assistance. Virtual Portrait Support: Wendy and Roger Ragusa, Susan Wilson and Eric Hall, Duncan West and Mary Deaton, Peggy Sue Erickson, Roger Gietzen and Chelan Robbins, Taylor Bannister, Cathy and Walter Pfahl, Susan Zamaria and Steve Girard.
Artists: Are you ready to get back on stage? Please email roger@lincolntheatre.org if you are interested in being a part of this series.
Sponsors: Would you like to help offset crew and licensing costs? Low cost sponsorships are available. Click HERE for a PDF to the sponsor agreement. Please email roger@lincolntheatre.org for more information.