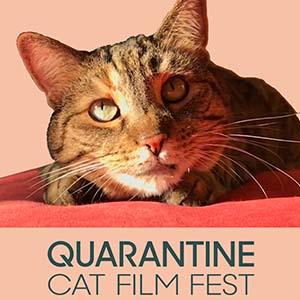 Friday, Jun 19 (All day)

to

Wednesday, Sep 30 (All day)
QUARANTINE CINEMA OFFERING
OPENS FRIDAY, JUNE 19

WILL CATS SAVE THE INDEPENDENT MOVIE THEATER?
Amateur filmmakers from around the world filmed their beloved cats during COVID-19 stay-at-home orders.  This compilation reel brings together the cutest, funniest, bravest and most loving of these videos (including some kitties you may know), exclusively filmed during the pandemic. Everyone who submited a video will compete for various cash prizes.  The videos will be judged in four categories: Cutest, Funniest, Bravest, and Most Loving. There will be a Best Of Show award as well. 
"Our customers are at home with their kitties. What we need is for everyone to film their cats doing amazing things, then send us the videos.  This will bring us the revenue we need to reopen" says theater manager Brian Mendelssohn of Row House Cinema, the creative genius behind this project.
We have Local Kitties featured in this film! Check out FaceBook and Instagram for more information on our local feline celebrities. 
Director: Brian Mendelssohn
English | 2020 | Cat Documentary |  | NR 
TICKETS: Presales are $12 (or more if people wish!) to buy. On the morning of the 19th, your portal will be switched from a presale link to an active link. Once this happens and the film is officially released, those who purchased presales will gain access to the film. Tickets purchased on the 19th or later will be $12 to rent.
50% of your ticket purchase directly supports the Lincoln Theatre, while the remainder support independent filmmaking & distribution.
CLICK ON THE 4 DIFFERENT BINGO CARDS TO PRINT AND PLAY ALONG AT HOME!
HOW TO WATCH: TELEVISION (via the the downloaded APPLE TV or ANDROID app, or CHROMECAST) MOBILE DEVICE (iPhone, iPad, Android) | COMPUTER (by clicking on the link below).
For more information on how the rental works:
Click the button above, or follow THIS LINK to purchase entry to our digital screening room.
Create an account – it's very easy! – and complete your purchase.
Watch as much as you like for 72 hours!
For any questions regarding streaming, device, connection, or payment issues, Row House Cinema can help you here.
For non-streaming questions, please feel free to reach out to us at admin@lincolntheatre.org