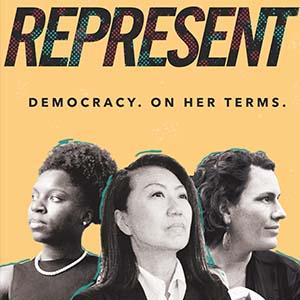 Friday, Aug 21 (All day)

to

Thursday, Sep 10 (All day)
QUARANTINE CINEMA OFFERING
AVAILABLE STARTING AUGUST 21

Equal parts personal and political, REPRESENT follows three women on both sides of the aisle who share the singular goal of improving their community through public service. Myya attempts to spark a youth movement and unseat the incumbent mayor of Detroit; Bryn, a farmer and working mother in Granville, OH, runs for township trustee; and Julie walks a tightrope between her identities as a Korean immigrant and Republican candidate for State Representative in a liberal Chicago suburb.
"Heading into the homestretch of this year's election, Represent feels like a balm." - Monica Castillo, roberEbert.com
"Regional politics is local politics is national politics. It's revealing to see how the sausage gets made, and who gets to make it." - Michael Phjillips, Chicago Tribune
On Thursday, August 20 at 6:00pm PDT, Music Box & Chicago Votes Present a live panel w/REPRESENT Director Hillary Bachelder, subject Julie Cho, and campaign manager Bobby Burns. Click HERE for a link to this free event.
Director: Hillary Bachelder
Featuring: Bryn Bird, Julie Cho​, Myya Jones​
USA | English | 2020 | Documentary | 93 minutes | NR 
$12.00 for a 48 hour rental period. 
HOW TO WATCH: TELEVISION (via the the downloaded APPLE TV or ANDROID app, or CHROMECAST) MOBILE DEVICE (iPhone, iPad, Android) | COMPUTER (by clicking on the link below).
For more information on how the rental works:
Click the button above, or follow THIS LINK to purchase entry to our digital screening room.
Create an account – it's very easy! – and complete your purchase.
Watch as much as you like for 48 hours!
For any questions regarding streaming, device, connection, or payment issues, you will need to reference these links and reach out directly Eventive HERE.
For non-streaming questions, please feel free to reach out to us at admin@lincolntheatre.org