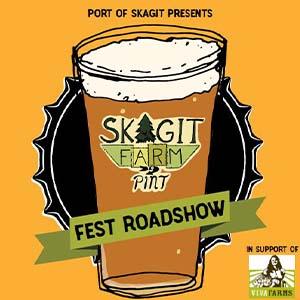 Presented by the Port of Skagit, Skagit Farm to Pint FEST Roadshow features all 13 Skagit Valley Breweries pairing a beer (featuring Skagit Valley grain) and a bite showcasing Skagit Valley ingredients.
100% of proceeds go to support the non-profit Viva Farms, and their mission to create a more just and resilient local food system.
TICKETS: $55 Include FEST Swag Bag with FEST Guide and 2 commemorative glasses, 13 beer & bite pairings, live stream concert, and a scavenger hunt for the chance to win over $1,000 in prizes including a Kegerator, Yeti cooler, swag, and gift cards!
As part of this year's Roadshow we will host the live stream concert from the Lincoln on April 3rd at 6:00pm to support our local musicians and kick-off the FEST's start by awarding lots of great prizes!
The show will be available to watch on the Fest's Youtube Channel
Ebb, Slack & Flood is a local Anacortes band playing funk, soul, and reggae with a heavy blues accent. Their unique sound is a collaborative fusion, each member bringing different skills and styles to the table. The result is a blend of funk, reggae and R&B that is easy to listen to and hard not to dance to!
The Enthusiasts – A local Skagit Valley band naturally.  The Enthusiasts will be playing original music and covers they wish they wrote!
Dean's Honky Tonk Dream is a trio from Skagit County. Tom Forster, Peter Bridgman, and Dean Luce have been playing together for years in the bands SmokeWagon, The Dovetails, and Knut Bell, and the 360's. The name first appeared on the marquee in the spring of 2013 when Dean started a month-long residency at the Green Frog Tavern in Bellingham playing two sets of music every Monday night. That morphed into what is now Knut Bell and the 360's and it moved to every third Thursday at the Corner Pub in Bow where it's been ever since. SmokeWagon and the Dovetails have also been actively playing shows here and there and the core trio has grown their repertoire and gotten tighter and tighter as a unit. Playing mostly covers of traditional tunes and early country, bluegrass, western swing, surf, and rock and roll, Dean's Honky Tonk Dream throws in some of Dean's original songs to even out the mix.