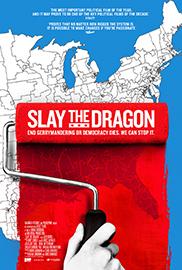 Friday, Apr 10 (All day)

to

Thursday, May 7 (All day)
VIRTUAL CINEMA OFFERING
NOW PLAYING

Help support the Lincoln Theatre through this unique partnership with Magnolia Pictures!
A secretive, high-tech gerrymandering initiative launched 10 years ago threatens to undermine our democracy. Slay the Dragon follows everyday people as they fight to make their votes matter.
"The most important political film of the year, and it may prove to be one of the key political films of the decade." - Owen Gleiberman, Variety
"SLAY THE DRAGON is an excellent film that tells the story of how politicians used gerrymandering to cheat the American people out of equal representation for the past decade and how committed, organized citizens can fight back to restore fairness to our elections. With the next redistricting process set to take place in 2021, the message of SLAY THE DRAGON could not be more timely or more profound – we must end the era of politicians choosing their voters and give power back to the people, where it belongs. Our democracy is at stake'." - Former Attorney General Eric Holder
DIRECTED BY Barak Goodman and Chris Durrance
PRODUCED BY Barak Goodman and Chris Durrance
English | 2020 | Documentary | 101 minutes | PG-13 
$6.99 for a 72 hour rental period.
With each screening of Slay the Dragon purchased, the Lincoln Theatre will receive 50% of the ticket price and the distributors and filmmakers receive the other 50%. Thank you for supporting the Lincoln!.
HOW TO WATCH: TELEVISION (via the the downloaded APPLE TV or GOOGLE CHROMECAST) MOBILE DEVICE (iPhone, iPad, Android) | COMPUTER (by clicking on the link below).
For more information on how the rental works:
Click the button above, or follow THIS LINK to purchase entry to our digital screening room for Slay the Dragon for only $6.99 on Magnolia's secure virtual screening room created just for patrons of the Lincoln Theatre.
Create an account – it's very easy! – and complete your purchase.
Watch as much as you like for 72 hours!
For any questions regarding streaming, device, connection, or payment issues, you will need to reference these links and reach out directly Magnolia here.
For non-streaming questions, please feel free to reach out to us at admin@lincolntheatre.org