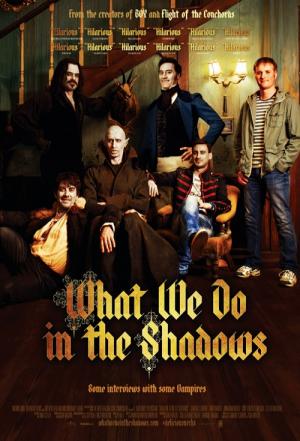 Follow the lives of Viago, Deacon, and Vladislav - three flatmates who are just trying to get by and overcome life's obstacles - like being immortal vampires who must feast on human blood. Hundreds of years old, the vampires are finding that beyond sunlight catastrophes, hitting the main artery, and not being able to get a sense of their wardrobe without a reflection, modern society has them struggling with the mundane like paying rent, keeping up with the chore wheel, trying to get into nightclubs, and overcoming flatmate conflicts.
 
Directors: Jemaine Clement and Taika Waititi
Starring: Cori Gonzalez-Macuer, Jemaine Clement, Jonathan Brugh and Taika Waititi
 
What the critics are saying:
Certified Fresh on Rotten Tomatoes
"Smarter, fresher, and funnier than a modern vampire movie has any right to be, What We Do in the Shadows is bloody good fun."
Arizona Republic
Bill Goodykoontz
There is so much love and understanding of all the genres the film is skewering that What We Do in the Shadows transcends its lowbrow inspirations. It's a real treat.
TheWrap
Alonso Duralde
At a brisk 86 minutes, What We Do in the Shadows never sags or drags, delivering its comic punches with surgical precision and then getting off the stage. Being immortal doesn't mean you have to lose your sense of timing.
 
RogerEbert.com
Simon Abrams
An irrepressibly charming B-movie that never over-stays its welcome, and is both conceptually clever and admirably well-executed. 
 
Admission Prices*:
General: $10.00
Seniors, Students and Active Military: $9.00
Members: $8.00
Children 12 and under: $7.00
Sunday Bargain Prices:
General: $8.00
Members: $6.00
Children 12 and under: $5.00
Add $2.00 to the above prices for 3D screenings.
Your membership with the Lincoln Theatre saves you $2.00 per film ticket.
*All prices include a $1.50 Preservation Fee that goes directly into our capital account for preservation of the Lincoln Theatre and its programs. Film tickets are only available at the door beginning 45 minutes before the first screening of the day. This saves you, the ticket buyer the fees associated with purchasing online. Never fear – there are plenty of seats!
 
Monday film screenings are part of the Lincoln Theatre Member Mondays! Click here for details.
 
Film dates and times are subject to change and extended runs. Please check back here, or our phone message at 360.336.8955, day of show.