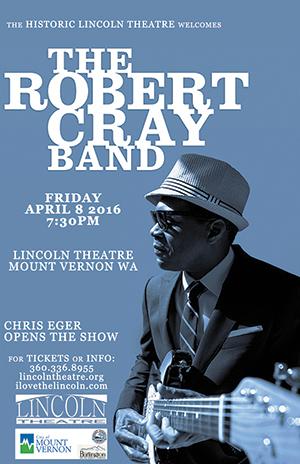 Friday, April 8, 2016 - 7:30pm
Advance Reserved Seating Tickets: $65, $50, & $35 plus applicable fees. Lincoln Members receive a $2 discount.
Tickets go on sale to Lincoln Theatre Members on February 5th at noon and to the general public on 2/12/16. Held tickets for VIP/Fan Club purchase are available through Robert Cray's Facebook Page.
Open ears and an open mind are the essence of singer, guitarist and songwriter Robert Cray's approach to writing, recording and playing music. He has created a sound that rises from American roots and arrives today both fresh and familiar. In just over 40 years Cray and his band have recorded 20 studio releases, 15 of which have been on the Billboard charts, and played bars, concert halls, festivals and arenas around the world. There are five Grammys with Cray's name on them, and he has a suitcase full of W.C. Handy blues awards. Four years ago Cray was inducted into the Blues Hall of Fame.
Growing up in the Northwest, Robert Cray listened to the gospel of the Five Blind Boys of Mississippi, Bobby Bland's soul, Jimi Hendrix's rock guitar and the Beatles pop sounds. He would bring all of the influences into play throughout his career, but his teenage band was captivated by Southern Soul and the blues. "In the early days of the band we were getting back into O.V. Wright and paying attention to my favorite blues players; Buddy Guy, Otis Rush, Albert King and especially Albert Collins," Cray says.
The Texas-born blues guitarist known as Master of the Telecaster, Albert Collins, sealed the deal on the Cray Band's early direction. The musical highlight of Cray's senior year was his class voting to bring Collins in to play a graduation party.
The glow of a career in music began when Cray was a teen, and in 1974 it burst into flames as the Robert Cray Band came together in Eugene, Oregon. How strong was the fire? "Richard and I didn't own a vehicle, and we were staying with his girlfriend in Eugene. We hitched a ride to Salem, where our drummer Tom Murphy was going to school, to rehearse," Cray recalls.
Following the path of fame taken by blues-based rockers like Johnny Winter and Stevie Ray Vaughan, Cray became a sensation, leading his band in concerts at large arena and rock festival. He was the first African American artist since Jimi Hendrix to rise to such fame in rock music. Was there a change in the band's direction or had the blues arrived again into the mainstream after more than three decades of being forgotten by radio? "We were doing blues and R and B from the first," Crays says. "That's just part of what we do. If you're writing a tune it's only natural to grab something from someplace else. You're gonna put in some soul changes and some jazz, something you've been listening to. With what we do there's a whole lot of room to move."
Chris Eger opens the show with a solo acoustic set.