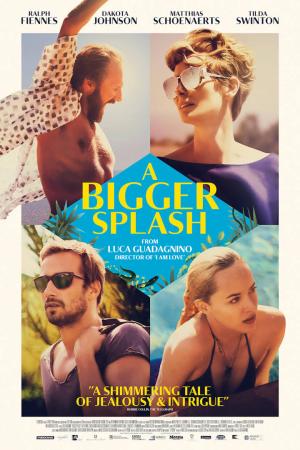 In A BIGGER SPLASH, rock legend Marianne Lane (Tilda Swinton) is recuperating on the volcanic island of Pantelleria with her partner Paul (Matthias Schoenaerts) when iconoclast record producer and old flame Harry (Ralph Fiennes) unexpectedly arrives with his daughter Penelope (Dakota Johnson) and interrupts their holiday, bringing with him an A-bomb blast of nostalgia from which there can be no rescue. A BIGGER SPLASH is a sensuous portrait of desire, jealousy and rock and roll, under the Mediterranean sun.
 
Starring: Dakota Johnson, Matthias Schoenaerts, Ralph Fiennes, and Tilda Swinton
 
Director: Luca Guadagnino
 
What the critics are saying:
 
Consequence of Sound, Blake Goble
 
Guided more by emotion and imagery than by any conventional plot, A Bigger Splash is a wicked, mysterious, ceaselessly sexy, and experiential carnal summer whirl.
 
Rolling Stone, Peter Travers
 
Everything in this movie is so ripe and voluptuous that watching it doesn't seem enough, you want to take a bite out of it.
 
Los Angeles Times, Justin Chang
 
[Guadagnino's] made the rare movie that, for all its delight in its own beautiful surface, turns out to be altogether less shallow than it appears.
 
RogerEbert.com, Christy Lemire
 
Simultaneously lush and lurid, sumptuous and startling, A Bigger Splash never goes where you expect, even as its undercurrent of danger is unmistakable from the start.
 
Film Prices:
 
General: $10.00
Seniors, Students and Active Military: $9.00
Members: $8.00
Children 12 and under: $7.00
 
Sunday Bargain Prices:
 
General: $8.00
Members: $6.00 Children 12 and under: $5.00
 
Add $2.00 to the above prices for 3D screen
 
Your membership with the Lincoln Theatre saves you $2.00 per film ticket. *All prices include a $1.50 Preservation Fee that goes directly into our capital account for preservation of the Lincoln Theatre and its programs.
 
Film tickets are only available at the door beginning 45 minutes before the first screening of the day. This saves you, the ticket buyer the fees associated with purchasing online. Never fear – there are plenty of seats!
 
Members have benefits: Click here for details.
 
Film dates and times are subject to change and extended runs. Please check back here, or our phone message at 360.336.8955, day of show.