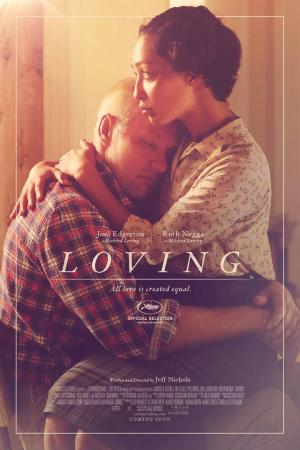 Saturday, Jan 14, 7:30 pm
Interracial couple Richard and Mildred Loving fell in love and were married in 1958. They grew up in Central Point, a small town in Virginia that was more integrated than surrounding areas in the American South. Yet it was the state of Virginia, where they were making their home and starting a family, that first jailed and then banished them. Richard and Mildred relocated with their children to the inner city of Washington, D.C., but the family ultimately tries to find a way back to Virginia.
 
Starring: Joel Edgerton, Ruth Negga, Michael Shannon, Marton Csokas, Nick Kroll, and Jon Bass (II)
   
Director: Jeff Nichols
   
At the Mighty Wurlitzer:
 
Friday, January 13 Katie Moyer
Saturday, January 14 Fred Beeks
Sunday, january 15 Katie Moyer
Monday, January 16 Fred Beeks
 
What the critics are saying:
 
Certified Fresh on Rotten Tomatoes
 
Loving takes an understated approach to telling a painful -- and still relevant -- real-life tale, with sensitive performances breathing additional life into a superlative historical drama.
 
Adam Graham, Detroit News
 
Nichols is one of today's finest rural storytellers, and he never wavers in his approach, going small where others would go grandiose. "Loving" is an exercise in restraint befitting the quiet couple at its center.
 
Moira MacDonald, Seattle Times
 
Watch how Edgerton's Joel, a stoic man of few words, puts an arm around Mildred without seeming to think about it, naturally wanting her near; watch how Negga lets her performance speak through her expressive eyes, always looking for Richard.
 
Calvin Wilson, St. Louis Post-Dispatch
 
A beautiful film about daring to love, without fear or compromise.
 
Film Prices:
 
General: $10.00
Seniors, Students and Active Military: $9.00
Members: $8.00
Children 12 and under: $7.00
 
Sunday Bargain Prices:
 
General: $8.00
Members: $6.00
Children 12 and under: $5.00
 
Add $2.00 to the above prices for 3D screen
 
Your membership with the Lincoln Theatre saves you $2.00 per film ticket.
 
*All prices include a $1.50 Preservation Fee that goes directly into our capital account for preservation of the Lincoln Theatre and its programs. Film tickets are only available at the door beginning 45 minutes before the first screening of the day. This saves you, the ticket buyer the fees associated with purchasing online. Never fear – there are plenty of seats!
 
Members have benefits: Click here for details.
 
Film dates and times are subject to change and extended runs. Please check back here, or our phone message at 360.336.8955, day of show.