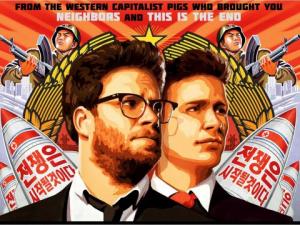 Due to popular demand, and to help avoid lines at the box office, advance tickets are now available for all screenings of THE INTERVIEW.
In case you haven't heard, THE INTERVIEW, starring Seth Rogen and James Franco, a comedy that centers on a plot to assassinate North Korean leader Kim Jong Un was responsible for Sony Pictures' emails being hacked just before the movie's planned Christmas Day release. The group that claimed responsibility for the hack, the Guardians of Peace, also threatened violence against moviegoers if the film made it to theaters. That prompted the nation's largest theater chains to say they wouldn't screen THE INTERVIEW. Sony, too, said it wouldn't release the movie. Then, in an abrupt turnaround, it was announced that it would be released to independent movie theaters and available to rent online. Although THE INTERVIEW is not a typical Lincoln film (in fact we would not have been able to book it if it had gone to the Cineplex), the public has spoken, and THE INTERVIEW is coming to the Lincoln. G. Allen Johnson of the San Francisco Chronicle puts it best: "No matter what you think of dumb comedies, THE INTERVIEW, thanks allegedly to Kim, has gone from disposable to indispensable cinema. It's a must-see movie in the context of what has happened, and will spark a discussion of, in comedy, how far is too far?" 
Dave Skylark (James Franco) and his producer Aaron Rapoport (Seth Rogen) run the popular celebrity tabloid TV show Skylark Tonight. When they discover that North Korean dictator Kim Jong-un is a fan of the show, they land an interview with him in an attempt to legitimize themselves as journalists. As Dave and Aaron prepare to travel to Pyongyang, their plans change when the CIA recruits them, perhaps the two least-qualified men imaginable, to assassinate Kim Jong-un.
 
Director: Evan Goldberg and  Seth Rogen
 
Starring: James Franco, Seth Rogen, Lizzy Caplan, Randall Park and Diana Bang
 
What the critics are saying:
The Playlist
Tess Hofmann
Comedy is most effective when it's taking a risk. Here, the directors took a big risk, and managed to finesse something shocking and novel out of the familiar Franco-Rogen dynamic without overplaying their hand.
 
Time Out New York
David Ehrlich
Fashioning "The Great Dictator" and "Inglourious Basterds" into a cross joint and then lighting it from both ends, Goldberg and Rogen's second directorial effort follows the hysterically violent misadventures of idiotic talk-show host Dave Skylark (James Franco, hamming it up) and his underachieving producer, Aaron (Rogen).  
 
Philadelphia Inquirer
Tirdad Derakhshani
Crazy funny.
Admission Prices*:
General: $10.00
Seniors, Students and Active Military: $9.00
Members: $8.00
Children 12 and under: $7.00
Sunday Bargain Prices
General: $8.00
Members: $6.00
Children 12 and under: $5.00
Add $2.00 to the above prices for 3D screenings.
Your membership with the Lincoln Theatre saves you $2.00 per film ticket.
*All prices include a $1.50 Preservation Fee that goes directly into our capital account for preservation of the Lincoln Theatre and its programs. Film tickets are only available at the door beginning 45 minutes before the first screening of the day. This saves you, the ticket buyer the fees associated with purchasing online. Never fear – there are plenty of seats!
 
Monday film screenings are part of the Lincoln Theatre Member Mondays! Click here for details.
 
Film dates and times are subject to change and extended runs. Please check back here, or our phone message at 360.336.8955, day of show.