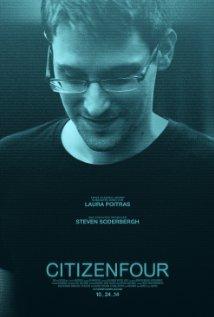 Saturday, Feb 21, 7:30 pm
Tonight is your last chance to catch Citizenfour, the winner of Best Documentary Feature at last Sunday's Academy Awards presentation. Now is your chance to be the judge.
 
In January 2013, filmmaker Laura Poitras was in the process of constructing a film about abuses of national security in post-9/11 America when she started receiving encrypted e-mails from someone identifying himself as "citizen four," who was ready to blow the whistle on the massive covert surveillance programs run by the NSA and other intelligence agencies. In June 2013, she and reporter Glenn Greenwald flew to Hong Kong for the first of many meetings with the man who turned out to be Edward Snowden. She brought her camera with her. 
 
Director: Laura Poitras
 
What the critics are saying:
Certified Fresh on Rotten Tomatoes
"Part real-life thriller, part sobering examination of 21st century civil liberties, Citizenfour transcends ideology to offer riveting, must-see cinema."
The Globe and Mail (Toronto)
Liam Lacey
The documentary of the year may also be its most hair-raising thriller. 
Boston Globe
Ty Burr
Citzenfour is prosaic in its presentation and profoundly chilling in its details, and if you think Snowden is a traitor, you should probably see it. If you think he's a hero, you should probably see it. If you haven't made up your mind — well, you get the idea
RogerEbert.com
Godfrey Cheshire
Though superlatives can mischaracterize any movie's qualities, it is not an overstatement, I think, to call Citizenfour, Laura Poitras' film about Edward Snowden, the movie of the century (to date).
Admission Prices*:
General: $10.00
Seniors, Students and Active Military: $9.00
Members: $8.00
Children 12 and under: $7.00
Sunday Bargain Prices
General: $8.00
Members: $6.00
Children 12 and under: $5.00
Add $2.00 to the above prices for 3D screenings.
Your membership with the Lincoln Theatre saves you $2.00 per film ticket.
*All prices include a $1.50 Preservation Fee that goes directly into our capital account for preservation of the Lincoln Theatre and its programs. Film tickets are only available at the door beginning 45 minutes before the first screening of the day. This saves you, the ticket buyer the fees associated with purchasing online. Never fear – there are plenty of seats!
 
Monday film screenings are part of the Lincoln Theatre Member Mondays! Click here for details.
 
Film dates and times are subject to change and extended runs. Please check back here, or our phone message at 360.336.8955, day of show.