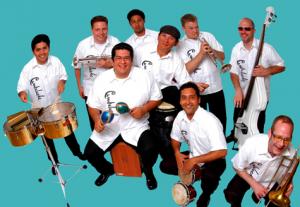 Saturday, January 23, 2010 - 7:00pm
Since their debut in 1999, Cambalache has become the Northwest's premier salsa band, breaking attendance records at almost every salsa venue in the area.  For their inaugural performance at the Lincoln, the band will offer salsa lessons at 7, followed by an evening of high-energy salsa!
New - The tickets for this event are now $15 festival seating, and all net proceeds from the event are being pledged to the Clinton Foundation Haiti Earthquake Relief Fund.  Please come out, enjoy your evening, and take part in responding to this tragedy, on behalf of all Skagit County residents.
 
Cambalache has now become a staple at regional festivals including Northwest Folklife, Bumbershoot and the Alaska Folk Fest.
Listen to a selection of Cambalache's music:
http://www.cambalachesalsa.com/downloads/sampler.mp3