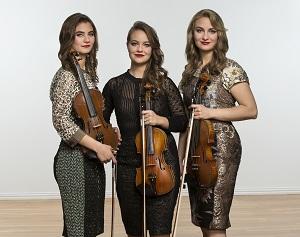 Friday, March 8, 2019 - 8:00pm
Reserved Seating Tickets: $35 1st Section; $30 2nd Section; $25 3rd Section; $20 4th Section + applicable fees. Lincoln Theatre Members receive $2 off.
With over fifteen years of touring to date, The Quebe Sisters have delivered their authentic triple fiddle and three-part harmony sound to the concert halls and festivals of North America, Europe, and Russia.
Grace, Sophia, and Hulda Quebe front an innovative Progressive Western Swing band of archtop guitar, upright bass, fiddles and sibling harmony. The Dallas-based five-piece presents a unique Americana blend of Western Swing, Jazz-influenced Swing, Country, Texas-Style Fiddling, and Western music.
"We differentiate our music as 'Progressive Western Swing' from simply 'Western Swing' because we aren't trying to sound just like Bob Wills," Grace Quebe explains. "Instead, we continue his vision, playing the style he pioneered in an authentic way by incorporating new genres and songs, interpreting them using our own unique voice through Country instrumentation."
The band's stripped-down acoustic instrumentation breathes new life into seasoned sounds once found in Texas dance halls and honky-tonks. Grace continues, "To us, preserving the tradition of Western Swing isn't about keeping something alive like a relic. Western Swing has always been about innovation."
Innovation has led the sisters to channel the musical connection between danceability and emotiveness, combining old sounds with new feelings and old feelings with new sounds. It's not nostalgia that drives the band as purveyors of Western Swing, but the aspiration to take the music back to its roots and sustain the spirit of Swing.
Combine the musical stylings of The Mills Brothers, Ray Price, Count Basie, Willie Nelson, and you have none other than The Quebe Sisters.
The Quebes' evolution from the whiz-kid Western swing fiddlers they were back then to the smokin'-hot young adult Americana band they are today is a remarkable story, by any measure. Along with headlining their own shows to ever-growing audiences, they've shared stages with American music legends like Willie Nelson, George Strait, Merle Haggard, Ricky Skaggs & Kentucky Thunder, Ray Price, Connie Smith, Marty Stuart, Larry Gatlin and the Gatlin Brothers, Ray Benson and Asleep at the Wheel, Riders in the Sky and many others.
Today, after more than a decade of travelling the U.S. and the world, and recording three acclaimed albums, Grace, Sophia and Hulda Quebe are pros in a variety of genres, and count many famous musicians among their biggest boosters. The Quebes' unbridled passion for American music, along with their talent, skills and a lot of hard work, has taken them far beyond their wildest early aspirations.
"One thing is for sure, you don't see a group like the Quebe Sisters come along every day," famed Opry announcer Eddie Stubbs told listeners on his own show on Nashville's WSM. "Give them your undivided attention, and if you're not already, you too, will become a fan."