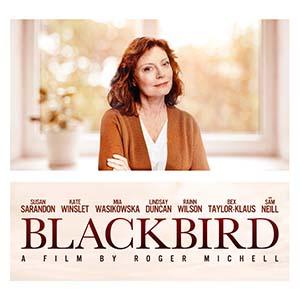 Friday, Sep 18 (All day)

to

Thursday, Oct 29 (All day)
QUARANTINE CINEMA OFFERING
AVAILABLE STARTING SEPTEMBER 18

Lily (Susan Sarandon) and Paul (Sam Neil) summon their loved ones to their beach house for one final gathering after Lily decides to end her long battle with ALS on her own terms. The couple is planning a loving weekend complete with holiday traditions, but the mood becomes strained when unresolved issues surface between Lily and her daughters Jennifer (Kate Winslet) and Anna (Mia Wasikowska). Joining the collective farewell are Lily's son in law (Rainn Wilson), her lifelong friend (Lindsay Duncan), daughter's partner (Bex Taylor-Klaus) and grandson (Anson Boon). Her story is ultimately one of hope, love and a celebration of life.
"The players, the setting...and Michell's sure-handed way with sensitive material get "Blackbird" airborne, and keep it there, from beginning to not-remotely-bitter-end."  - Roger Moore, Movie Nation
Director: Roger Mitchell
USA | English | 2020 | Drama | 98 minutes | R 
$9.99 for a 7 day rental period. 
HOW TO WATCH: TELEVISION (via APPLE TV, ROKU, CHROMECAST, or downloaded app on your smart TV) | MOBILE DEVICE (iPhone, iPad, Android) | COMPUTER (by clicking on the streaming link).
For more information on how the rental works:
Click the button above, or follow THIS LINK to purchase entry to our digital screening room.
Create an account – it's very easy! – and complete your purchase. 
For general help go to our Streaming Information Page HERE.
For any questions regarding streaming, device, connection, or payment issues, you will need to reference these links and reach out directly Eventive HERE.
For other questions, please feel free to reach out to us at admin@lincolntheatre.org